We were very fortunate to have, as one of our early Spellirium testers, a fellow named Shan. Shan is a word wizard who is a member of – or in some cases the founder of – a number of Scrabble® clubs around the Greater Toronto Area. Shan made a really interesting suggestion to help us solve a problem in the game.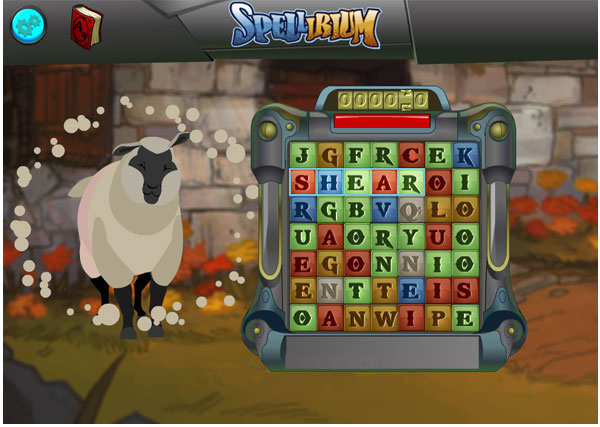 At certain times in Spellirium, you'll need a certain letter to make a specific word, a word required to solve a puzzle. Because tiles cascade into the grid randomly to replace the letters that you remove, you're not guaranteed to get that "L" you so desperately need. The game includes a couple of different features to remedy this problem:
You can just keep building words so that new tiles cascade into the grid, and hopefully that "L" will make an appearance eventually.
You can craft a powerup that lets you "inject" a letter of your choice into the grid.
So far, our testers haven't found either of these solutions satisfactory. Continually rolling the dice in the hopes that your letter will show up is no fun. And the road to crafting a powerup is a long one: first, you have to complete an achievement to earn a spell. Then you have to collect the spell's ingredients. Then you have to craft the powerup. Then you have to fill out a foolscap form in triplicate and mail it to your regional government.
Can i have my "L" now please?
Howdy, Neighbour!
Here's what Shan suggested: let the player sort of control the letters that cascade into the grid. How? When you build a word and those tiles are removed, the replacement tiles are alphabetically adjacent.
So if you need an "L", spell a word with a "K" or an "M" in it. After removing a "K", Spellirium will send one of its neighbours – either a "J" or an "L" – into the grid. This rule applies only to consonants; it skips over vowels. That's because vowels are outnumbered 21:5, and we don't want players to end up with grid full of consonants! For every vowel you remove, the grid gives you another random vowel. Vowel distribution is stacked in favour of A's and E's.
The alphabet wraps. So if you spell a word with a "Z", you'll get either a "Y" or a "B" next (we skip "A" because it's a vowel).
It's a neat solution, and while it could solve our problem, it creates another one: the rule is simple in practice, but a smidge complicated in theory. It's not easy to explain eloquently.
But did i explain it well in this post? Does this game rule make sense? Is it simple enough? Is there something even better that we could try instead? Let me know in the comments section!
Word.